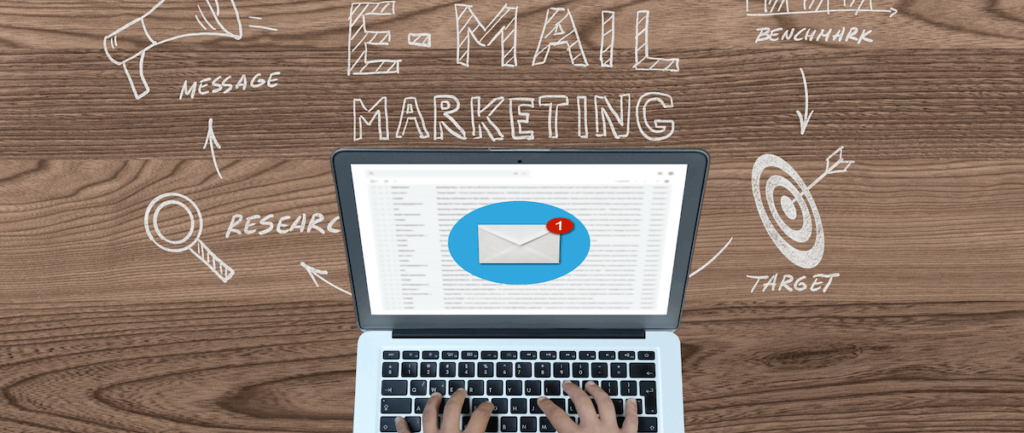 ---
This list is by no means exhaustive, but email marketing can do a lot to improve your bottom line.
In addition to making more sales and profits, sending emails can also help build relationships with your customers, so you're not just another faceless brand to them.
---
Here are 10 ways email marketing can help your ecommerce business:
This is probably the biggest benefit of email marketing for ecommerce businesses. Instead of spending money on ads trying to land new customers, you can just send an email to your current subscribers. After all, they've opted in to your email list, which means they've given you permission to contact them.
Just keep in mind that your subscribers are people. So treat them with respect and don't spam them with countless emails.
Email marketing allows you to write a quick note, such as, "Hey, you might find our latest product interesting. Go check it out!" And boom! They'd follow your call to action and buy your new product. It's practically free money since you did not spend extra to make the sale.
Additionally, try upselling, cross-selling, and bundling your offers to get a bigger boost in sales!
Upselling means asking your subscribers to check out a higher-priced option or product add-on.
Cross-selling refers to selling a related or complementary product in a different category.
Bundling is the practice of packaging the main product and other auxiliary items at a discounted price.
For example, if your customer purchased an iPhone case, then here are a few strategies:
Upsell a more expensive (but more durable) case for the device.
Cross-sell a screen protector to also protect the iPhone's screen.
Bundle the case and screen protector at a 10% discount compared to buying each item separately.
For best results, always put yourself in your customer's shoes and ask these questions:
Do I need this product?
How will it benefit me?
Is this really a good deal?
Do I get good value out of the product(s)?
If you can answer in the affirmative, then go ahead and make your pitch!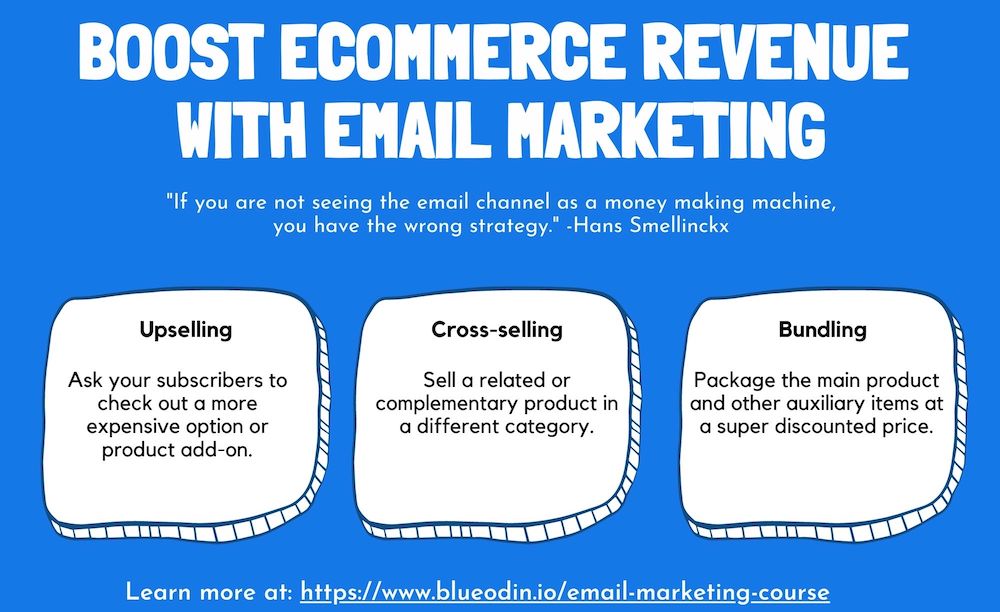 ---
#2 – Educate your customers
Creating content that delivers value to your subscribers is a must. But trying to sell something on every email is a big no-no.
Take some time to craft emails that educate your customers on how to use your products, so they can get the most bang for their buck.
In short, don't just sell them the fish, teach them how to prepare and cook the fish (recipes are always welcome).
You can also teach them what they'll get from using your product, e.g. product benefits.
Continuing with the fish example, you can send them an email outlining all the different nutrients you get from fish and what these nutrients can do for your health.
Nothing's too tiny or irrelevant to mention when it comes to your product.
Remember, your customers don't know your products as well as you do, so educating them is a huge help.
Of course, don't forget to help them get to know you, too. Share your company values. If you support a worthy cause, e.g. a percentage of your sales go to an orphanage in Africa or an animal sanctuary in Asia, let your readers know.
Here are other benefits of educating your customers:
Reduced support costs. They'd have answers to their questions, so there's less need for them to ask you.
Positions you as a market leader. By educating your customers, you also create the perception that you're an expert in your niche.
Improved customer satisfaction. Helping them understand how your product works will raise their satisfaction levels, both in your product and in your brand.
---
#3 – Build loyalty
One way to make your subscribers loyal is by making them feel special. You can give them a special discount code or offer more value than non-subscribers. Make it worth their while, so to speak.
Engage with your subscribers in a real conversation.
Don't be afraid to put your name (or someone else on your team) in the signature.
Encourage them to send replies or questions, and assure them that they'll get a proper reply.
With every value-laden email you send, the more loyal your subscribers become. This may lead to an increase in open and clickthrough rates, and of course, more sales which is great for increasing the customer lifetime value (CLV) metric.
Also, loyal customers tend to share and recommend their favorite brands to family, friends, and followers, so that's free word-of-mouth advertising for you.
According to QuickSprout, email subscribers are 3.9x more likely to share your content on social platforms.
---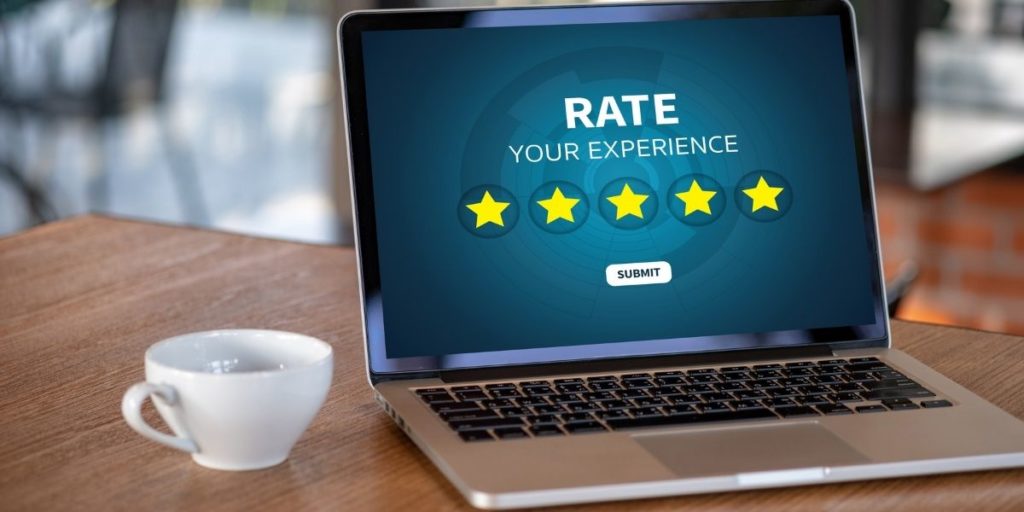 #4 – Ask for reviews and testimonials
Online reviews are important to ecommerce businesses. The more reviews you have, the better it is for your brand. People new to your store will look for social proof before buying anything from you.
Asking customers to leave an 'honest' review can do wonders for your business. Honest in the sense that you're not cherry-picking only the positive ones. This is why Amazon's review system works so well (and why unscrupulous sellers try to 'buy' people's 5-star reviews with bribes, a.k.a. free products and discounts).
What if you get a negative review?
Well, you can't please everybody, that's the truth.
Fortunately, negative reviews aren't all that bad. In fact, they can be a good thing! A perfect rating is highly suspect, which is why 82% of shoppers seek out one-star and two-star reviews, leading to an 85% increase in conversion rate.
Think of negative reviews as constructive criticism. Don't forget to thank the customer and use their feedback to improve your products and/or services.
---
#5 – Direct traffic to your website
When you're promoting something on your website, the rational thing to do would be to add your link somewhere in the email. After all, you can only cram so many paragraphs in one email, right? So, your call to action would usually be something like "Visit our website to know more about our new product!"
Directing people to visit your website is also good for your site's SEO. When your subscribers click on your email link, it means they're interested, so you're driving qualified traffic to your website.
Additionally, since your subscribers are more likely to interact with your content, it helps improve on-site engagement, which is said to be a factor in search engine rankings.
---
#6 – Make follow-ups easy and automatic
Following up is easy if you've got 5 customers. But when you're dealing with hundreds or thousands of customers? Nah, automation is the only way. This is where email flows or email sequences can help.
Email marketing tools like Blue Odin allow you to create email flows where you can visually arrange your triggers and email sequences. This makes it easier for you to see what email gets sent to who by what date and time!
Here's an example of a visual email flow from Blue Odin: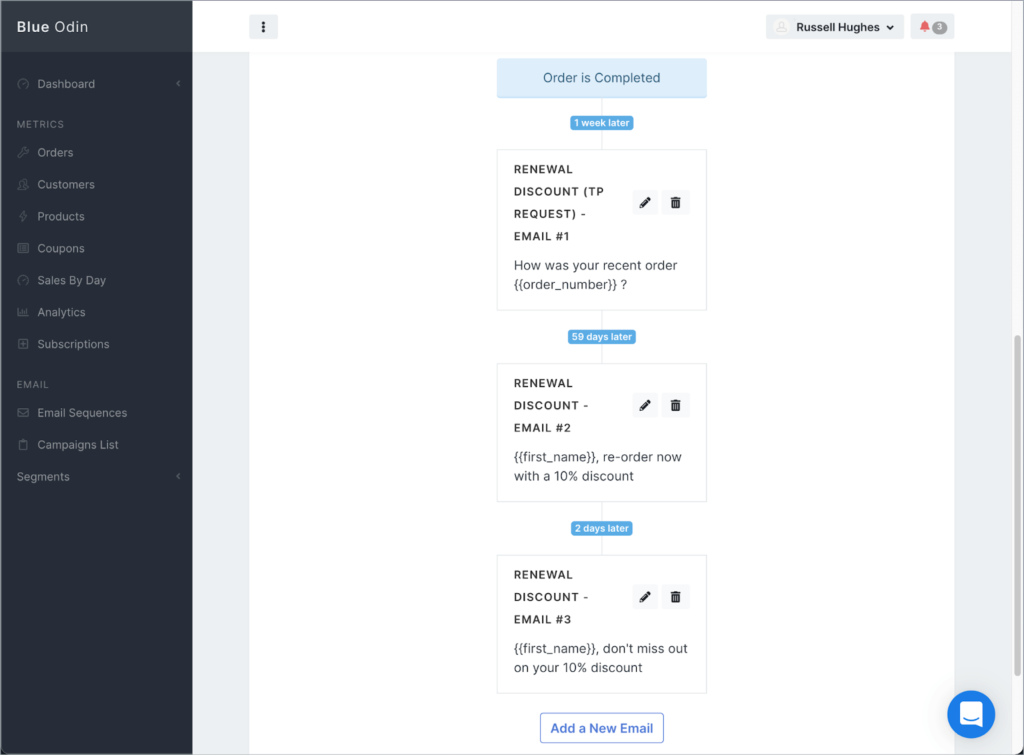 ---
#7 – Improve your brand's image and credibility
Being the sender, you get to have full control of your brand's narrative.
In point #2, we mentioned how you can use email marketing to educate your subscribers. By doing so, you're establishing your brand as an authority and leader in your ecommerce space.
It shows you care about your subscribers since you're taking the time to actually educate them, instead of just pushing your products down their throats.
Also, be real and authentic in your emails. If you want your ecommerce business to be around for a long time, being genuine is a step in the right direction.
Customers like to do business with brands they like and trust.
---
#8 – Convert visitors into customers
Some people don't want to buy straight away. To encourage people to join your mailing list, offer them something like a discount code that's only available to your subscribers.
Alternatively, a good case study, eBook, or guide can entice people to sign up to your mailing list – this is called your lead magnet.
That said, your lead magnet is the first step into getting your subscribers to purchase from you, a la "foot in the door" technique.
By doing the other tips mentioned in this email marketing course, the probability of turning your subscribers into paying customers becomes much higher!
---
#9 – Make a good first impression
It's true that email marketing can help build relationships, but you can't do that if you leave a bad first impression.
Whether their first email from you is a transactional email (e.g. a new account or new order email) or a welcome email, make sure you leave a good impression.
Here are a few tips:
Thank them for subscribing, creating an account, or making a purchase
Make your subscribers and customers feel welcome
Keep your brand fresh in new customers' minds by contacting them within a few hours of signing up (email automation comes in handy here)
---
#10 – Re-engage with past customers and inactive subscribers
Sometimes, people forget they're signed up to a mailing list. Or their circumstances have changed and they're no longer interested in hearing from you. They're under no obligation to tell you.
So if you're looking to clean up your mailing list, you can send them an email asking them if they still want to remain subscribed to your list.
In short, give them a choice to stay or go. Perhaps you can try reminding them of why they signed up in the first place.
If you do it right, then chances are, they may not click on the Unsubscribe button.
---
---