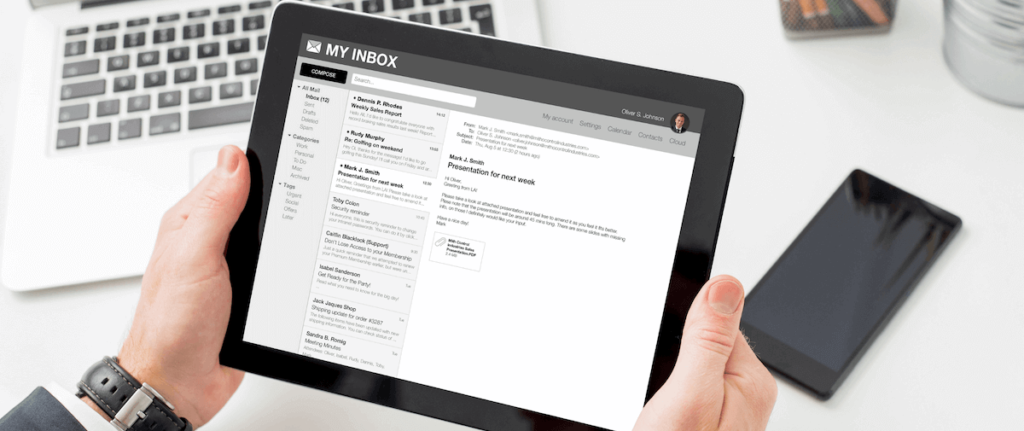 ---
There are many different types of emails used in email marketing, but they generally fall into 2 broad categories – transactional and marketing.
In a nutshell, transactional emails are sent one-to-one and DO NOT REQUIRE a subscription. On the other hand, marketing emails are sent to many people and REQUIRES a subscription (else you'll technically be sending unsolicited emails).
As you'll learn in this chapter, there are important differences between the two, but when done properly, both types can nurture customer relationships and help you sell more, too.
---
#1 – TRANSACTIONAL EMAILS
Transactional emails are, well, transactional in nature. They aren't marketing or promotional (not overtly anyway). These emails are typically sent to notify a customer/user about a specific action (taken by either you or the customer) that has taken place.
It's a vital form of communication, and users are more likely to expect, click, and open these emails. In fact, various market research firms indicate transactional emails get opened up to 8x more than marketing emails!
That said, both subscribers and non-subscribers can receive transactional emails from your store.
Let's say, for example, someone placed their very first order at your store. If they created an account, they will most likely expect to receive the following:
New account email – may include their username, the timestamp when the account was created, and/or IP address information
New order email – a list of products purchased and price per item
Processing order email – confirmation that the order is being processed
Completed order email – confirmation that the order has been shipped out
If they didn't create an account in your store but placed an order anyway, then they will most likely expect to receive the same set of transactional emails above EXCEPT for the new account email.
From a customer's point of view, transactional emails are very important.
How else would they know if the store they bought from got their order?
How would they know if the order's being processed – and which products have a problem?
When was their order shipped out?
Where they can leave a review?
They EXPECT these types of emails so make sure you enable them for your store.
---
Examples of transactional emails for ecommerce stores
This is by no means a comprehensive list, but these are some of the most common transactional emails that ecommerce stores configure and send out.
1.1. Double opt-in email
It's highly recommended for ecommerce stores to require double opt-in subscription when building email lists. This reduces the possibility of future emails getting marked as spam (because people forgot they signed up) and improves email deliverability as well.
Here's how it works:
Step 1: Lead gives you their email address
Step 2: You send them an email asking to confirm their subscription by clicking on a link
Step 3: Lead is added to your list!
Here's an example of a double opt-in email from TP-Link: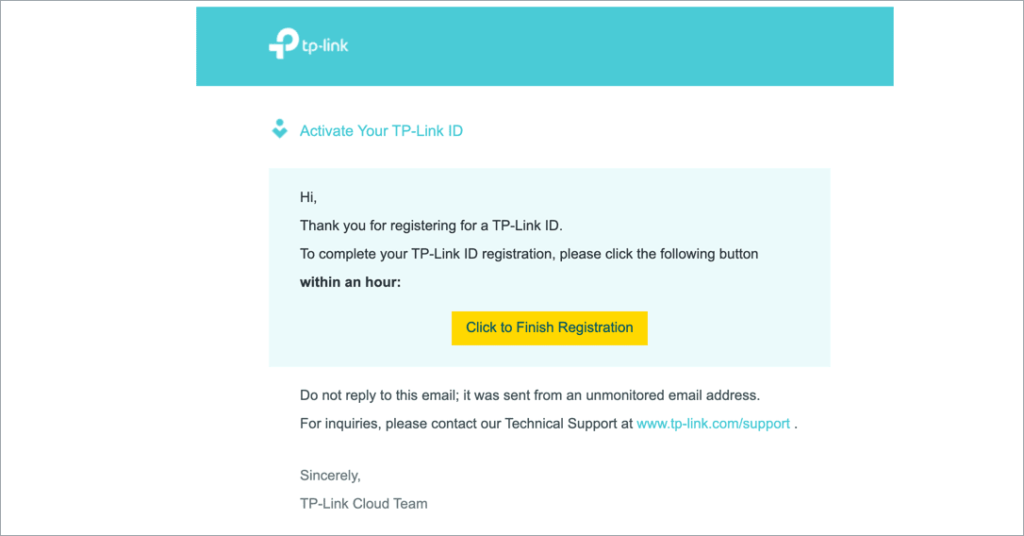 ---
1.2. Order confirmation or payment receipt email
Receipts keep your customers informed. More importantly, they expect to receive receipts every time they make an online purchase. It's great for tracking down online purchases later on, too.
Here's an example of a receipt that shows the item purchased, the amount paid for, the date paid, and the payment method.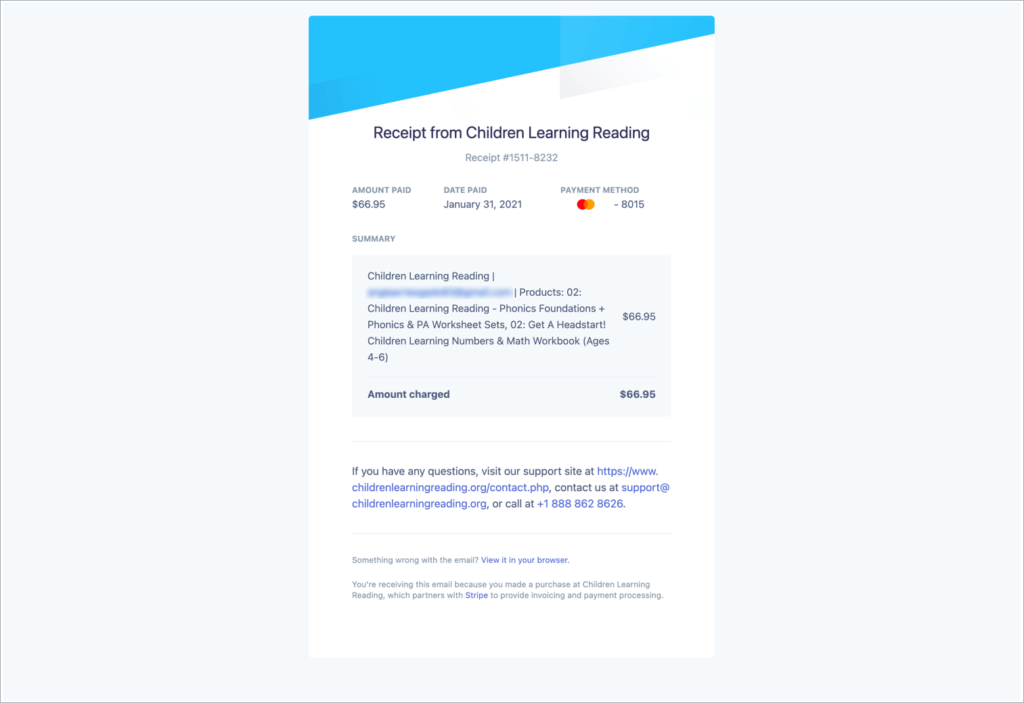 ---
1.3. Invoice email
An invoice is a payment request email. It may be sent as an attachment along with a link to where your customers can pay.
Here's an example of a payment request email from Kango Express (the invoice is attached as a PDF file):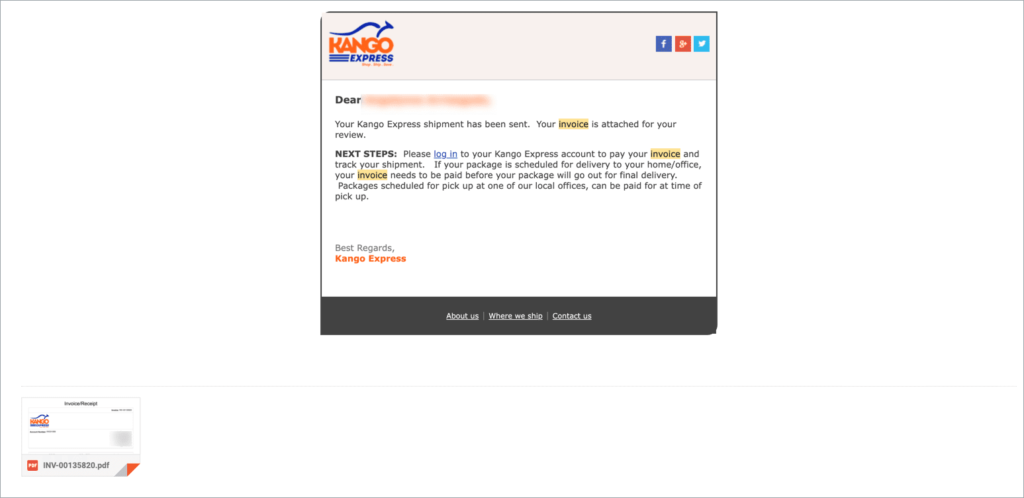 ---
1.4. Order shipped email
It's always nice to know the exact date and time your order gets shipped out, so you can anticipate when you're likely to receive it.
In the screenshot below, note how Amazon mixed both transactional and marketing content in one email. The top part shows the order details, but in the bottom half, there's also a section for product suggestions.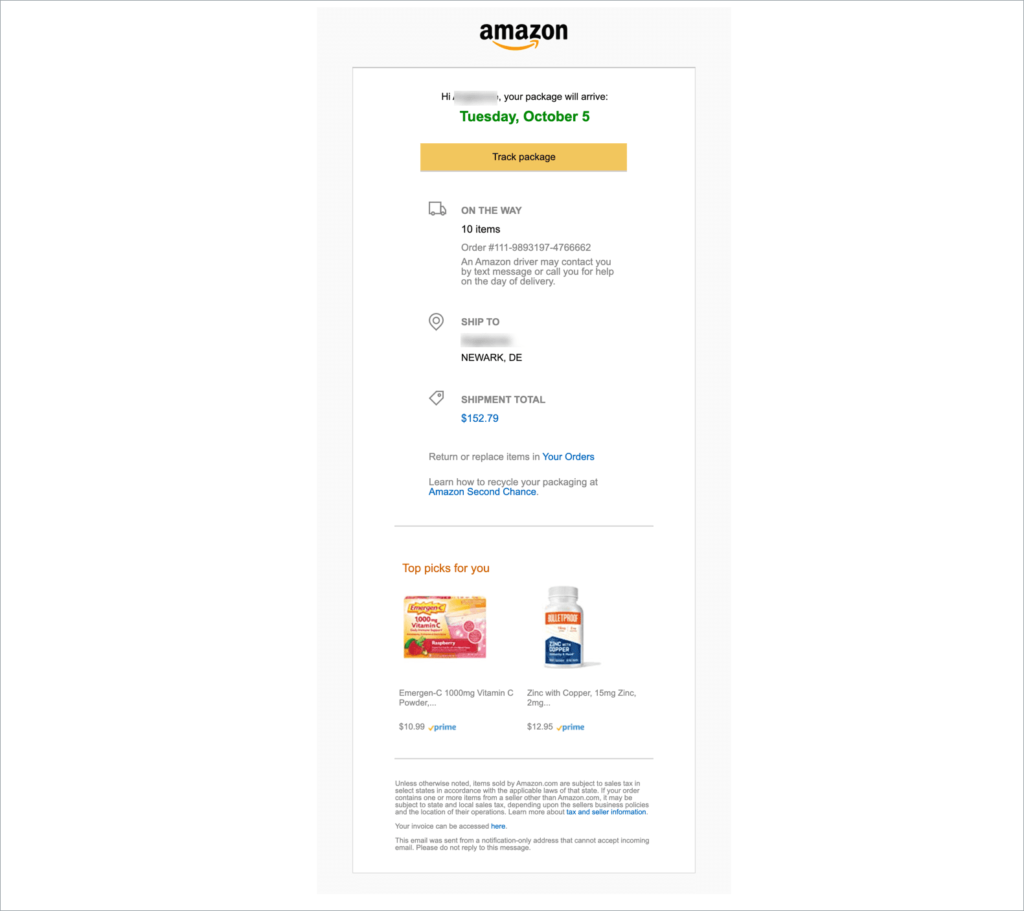 ---
1.5. Product feedback request email
Ask for feedback shortly after the order is delivered. You don't need to send it right away, but don't wait too long either. Otherwise, your customer might forget what they initially thought of your product.
Check out iHerb's feedback request email below. Note how they incentivize the process by giving rewards credit for each approved review and helpful vote received!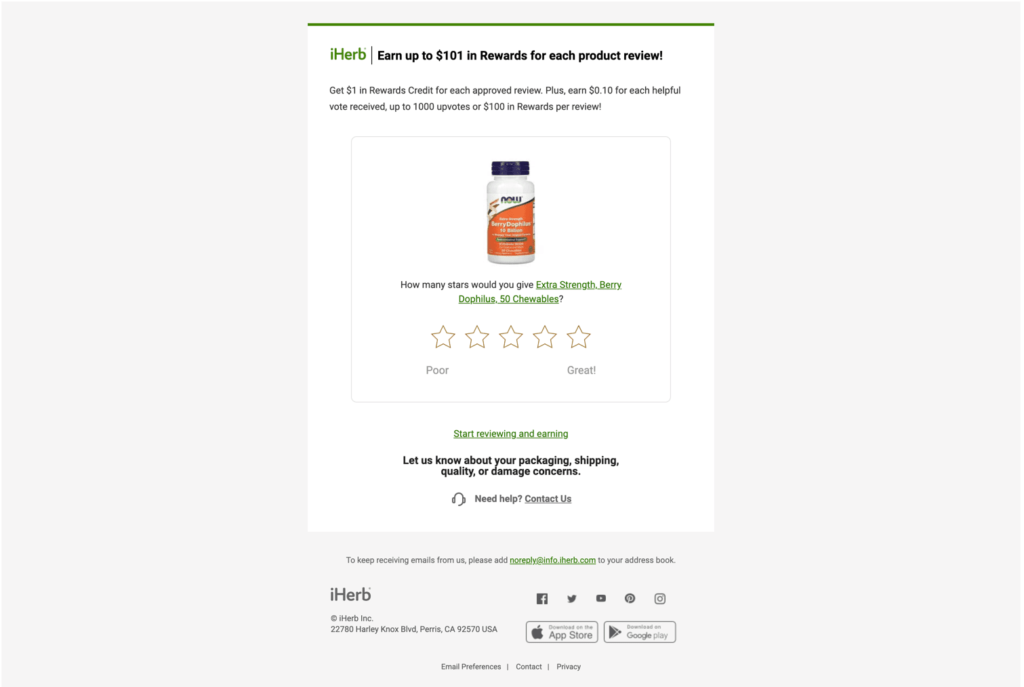 ---
1.6. Password reset email
People forget passwords all the time. But you can't just send them their passwords in plain text as emails do get hacked easily. Instead, the usual practice is to send them a link to reset their password.
But as you can see below, TechSmith does more than just send a reset password link. They also add links to their top products – Snagit, Camtasia, and Knowmia – which is a great marketing strategy. Try doing the same, too.

---
1.7. Thank you email
Being nice and polite can pay off dividends in the future. Consider sending a thank you email to your subscribers when they:
Sign up to your list (maybe as part of your welcome email series)
Make a payment (when you send them their receipt)
Receive their order (for trusting your store)
Leave a review (whether it's positive or negative)
Here's a simple thank you note (actually a payment receipt) from Geniuslink: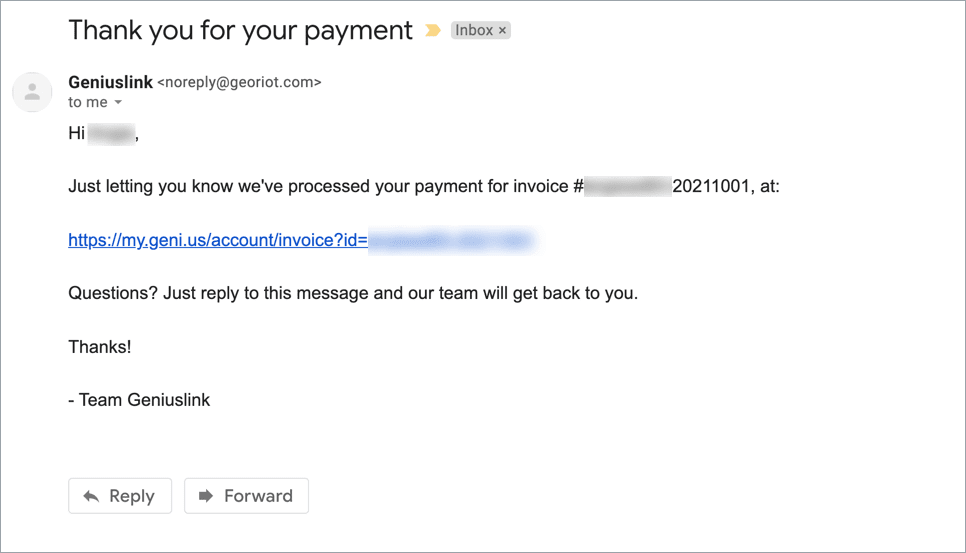 ---
Transactional emails in WooCommerce
Did you know more than 4.4 million ecommerce stores are built on WooCommerce? It's a great choice for anyone not wanting to invest a ton of money into paid platforms like Shopify, BigCommerce, and the like.
Here's a screenshot of the transactional emails that you can manage from WooCommerce.
You'll find this in WooCommerce > Settings > Emails:
You can change the recipient(s) and edit the email content by clicking on the Manage button on the right.
In terms of customization and personalization, there's not a lot you can do with WooCommerce emails. But you can make a few changes to the email template to make it look a bit better than the default appearance.
Here's an example template: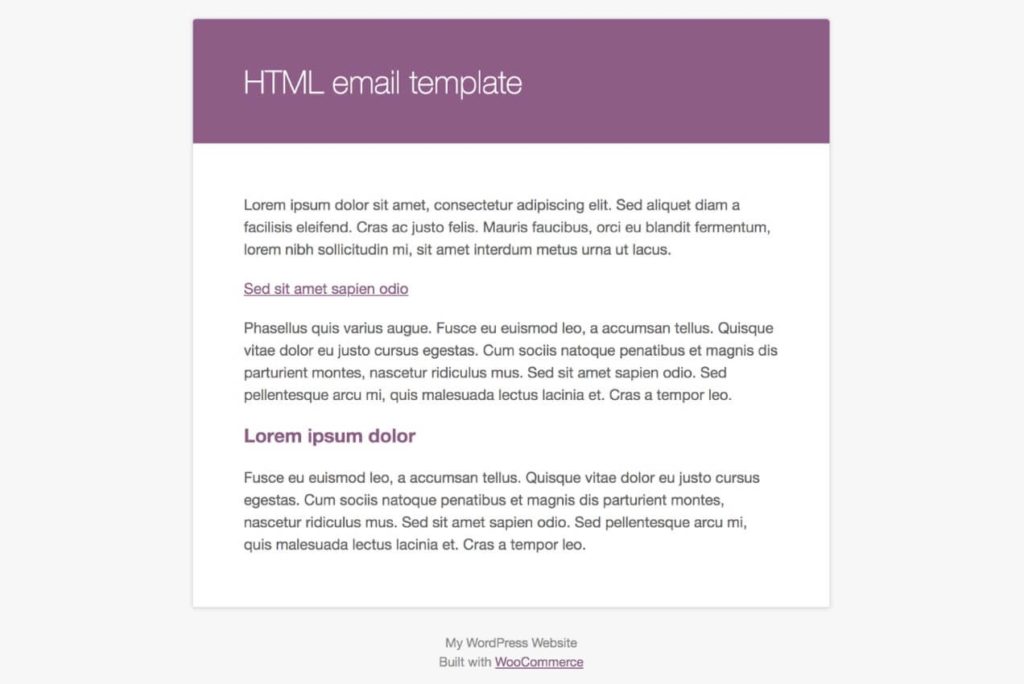 You can update the following settings:
Header image – this is shown at the top of all transactional emails. Ideally, your logo should be up here.
Footer text – this is the text at the bottom of the email. You can add a link to your website here.
Colors – it's important to use your brand colors to provide a seamless experience for your subscribers. Fortunately, WooCommerce allows you to change the background color, body background color, body text color, and base color (used in headings, links, and email title background).
With a few tweaks, you can transform a plain transactional email into a golden marketing opportunity.
Try and squeeze in a customized call to action somewhere in your transactional emails, be it when they first create their account or when the order is finally completed.
There's also an easier way to customize your WooCommerce emails.
You can download Kadence WooCommerce Email Designer, a free and open-source plugin that will transform your boring WooCommerce emails into fancy-looking ones like this: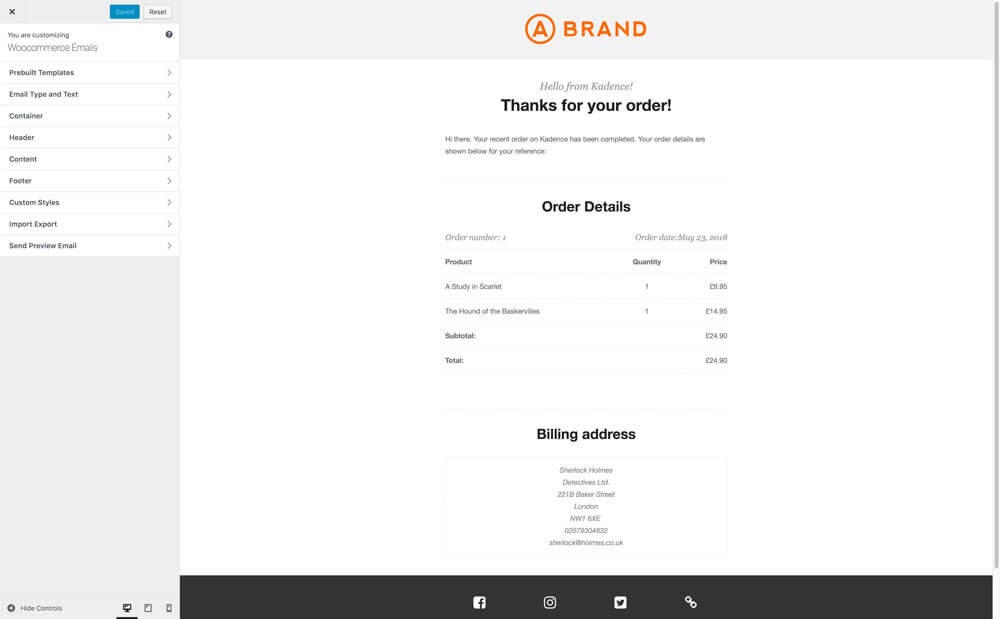 Alternatively, you may also want to consider paying for a premium service that can send both transactional and marketing emails on your behalf.
Most services let you customize transactional emails, which can help convert non-subscribers into subscribers (thus giving you the right to send them marketing emails, too)!
---
#2 – MARKETING EMAILS
Unlike transactional emails, marketing emails REQUIRE a subscription. ALL marketing emails MUST also have an unsubscribe link.
Anti-spam legislation exists in many countries, such as the CAN-SPAM Act (US), GDPR (EU), and CASL (CA), so you have to be very careful when it comes to sending marketing emails.
Can you send marketing emails in WooCommerce?
The core emails in WooCommerce are transactional in nature. We recommend using a separate email service provider for your marketing needs.
Check out Blue Odin as it allows you to send automated emails called Sequences as well as one-off emails called Campaigns.
---
Examples of marketing emails for ecommerce stores
There's a thin line between spam and marketing emails. Even if you do get your list through legitimate means, e.g. asking them to go through the double opt-in process, you still need to be careful about the type of emails you send to your SEGMENTED email list.
2.1. Newsletters
Email newsletters are great for keeping your subscribers up to date about what's going on in your company and/or industry.
What's great about newsletters is that your publishing schedule totally depends on you. If you want to send a daily newsletter, that's great! But make sure your audience is aware of the frequency when they first sign up.
But, on average, the best frequency is once a week since this schedule keeps your subscribers engaged. If you offer valuable insights in your weekly newsletters, then they'll likely look forward to every email you send out.
With that said, here are examples of content you can publish weekly:
1.1. Company updates
What's going on behind the scenes? Did you hire a new team member – introduce them! Did someone have a new baby or a new dog? Did you reach a new business milestone? What's your most popular post on social media?
Remember, people connect with other people, not companies. Don't be afraid to show the faces behind your brand.
1.2. Feature interviews
If you featured an industry expert on your blog, podcast, or YouTube channel – or YOU got featured – let your email subscribers know about it.
Interviews can also be repurposed into other types of content and it's easy to cross-promote to other platforms as well.
1.3. Content curation
If you publish blog posts regularly, promote them in your newsletter, too. This is good practice for SEO (search engine optimization) since subscribers tend to engage more.
Additionally, you can also sell a spot in your newsletter to brands who can use a boost in traffic!
Here's an example of a weekly newsletter that incorporates all these different types of content: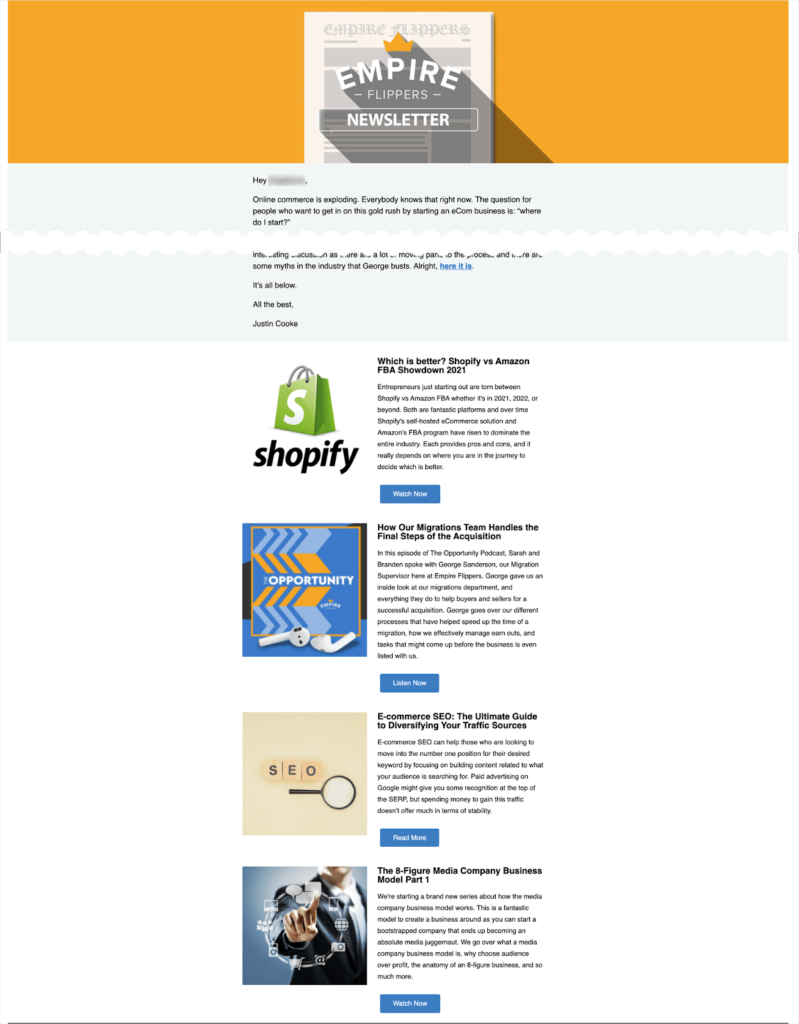 ---
Promotional emails are a common sight in the modern email inbox. This type of email promotes a brand's products and services, in the hopes of getting more sales. It's so common, in fact, that if you're on Gmail, there's a separate tab just for promotional emails!
Here are the most common types of promotional emails:
2.2.1. Product launch emails
Here's an example of a product launch email from Parallels where they promote Parallels Desktop 17 for Mac. In the email, they list down the main features and benefits of this latest version.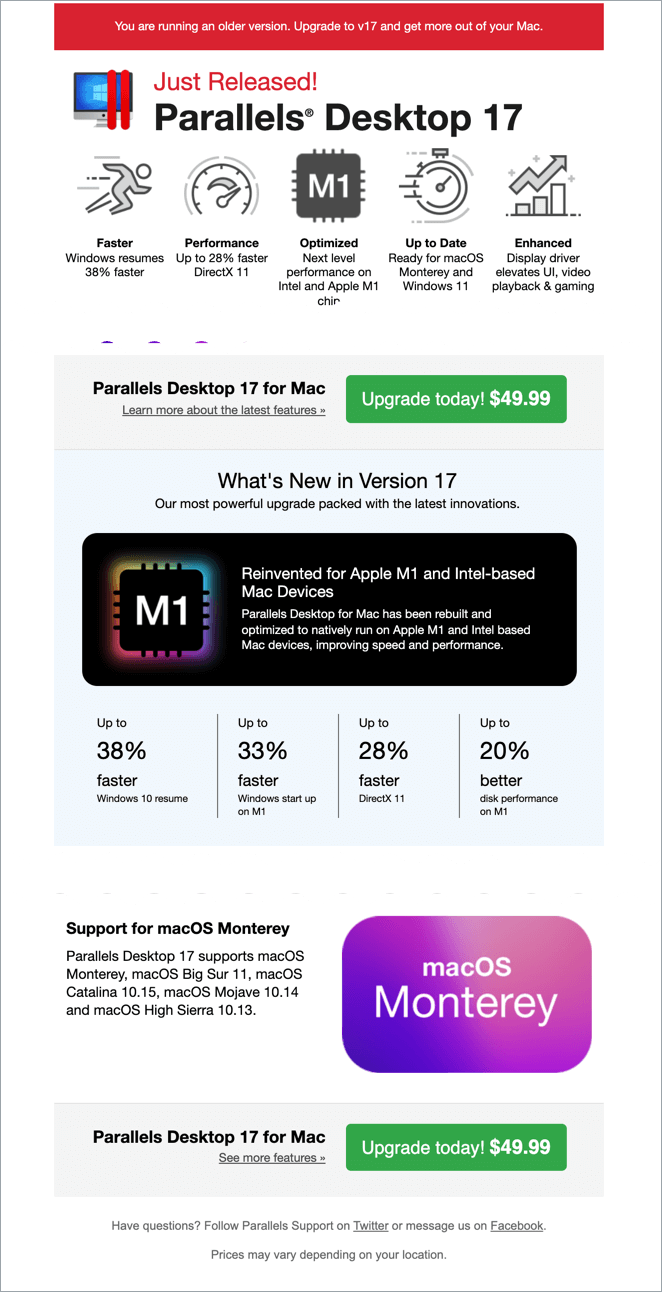 ---
Flash sales fall into this category. This involves a heavily discounted offer that's only available for a limited time.
Promotions like this need to have subject lines that make it perfectly clear the offer is limited, otherwise, no one's going to know UNLESS they open the email first.
Here's a perfect example of a time-sensitive promo email from Carb Manager. Check out the title: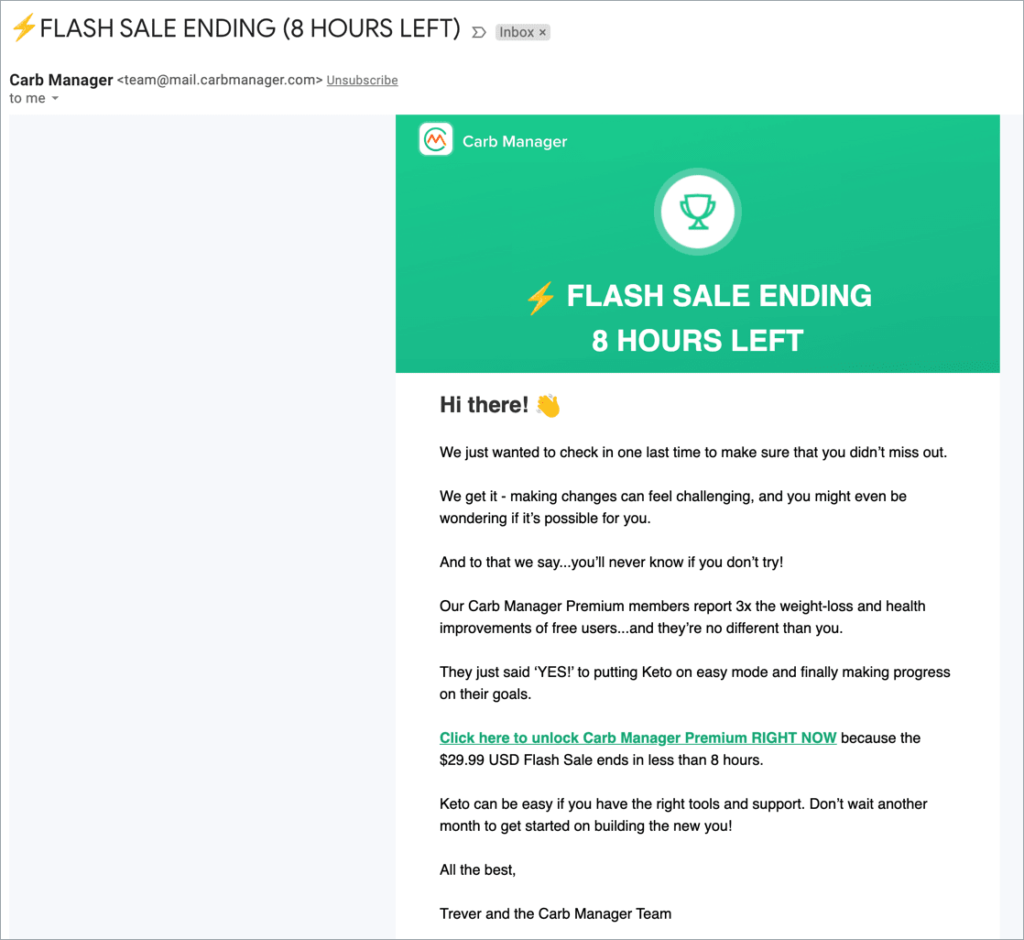 ---
2.2.3. Product upsell and cross-sell emails
Upselling and cross-selling may not be feasible for all niches, especially for single-product stores. However, for multi-product stores, you are potentially leaving a lot of money on the table if you don't upsell or cross-sell to your subscribers.
Consider upselling if the product the customer is interested in has an add-on or a more expensive option. Cross-sell if you have a related product that may complement the item.
Apple does the upselling and cross-selling game perfectly. Check out this Welcome email from Apple where they not only educate customers on how to make full use of their iPad Air, but they also promote apps and accessories at the bottom of the email.
---
2.2.4. Subscriber special emails
It's a nice touch to run subscriber-only specials periodically. It's sort of like a thank you for using your service or staying loyal to your brand.
Here's an example of a 50% discount offer that Dynalist sent out to their users. In the last line, they mention spreading the word about the offer.
For "true" subscriber specials, you can remove the last line and say something like "This offer is only available to current subscribers like you."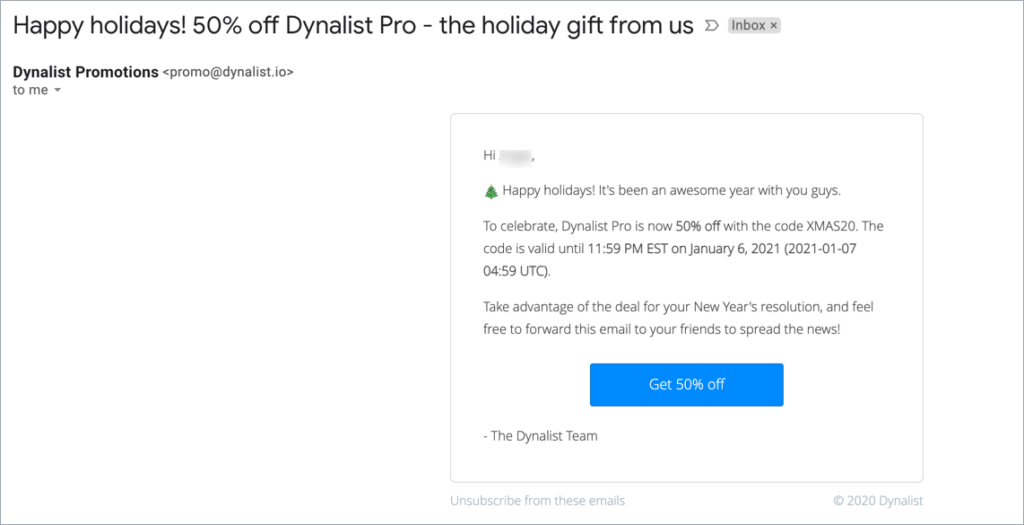 ---
2.2.5. Seasonal emails
Some niches are more popular than others during certain seasons.
For example, if you're in the tech niche, then Cyber Monday and Black Friday are probably your biggest sales days.
If you're selling fashion, pets, or kids' merchandise, then Valentine's, Christmas, or New Year's may be your most profitable days of the year.
Whatever your niche's season, use email marketing to boost your sales. Check out Namecheap's Black Friday email: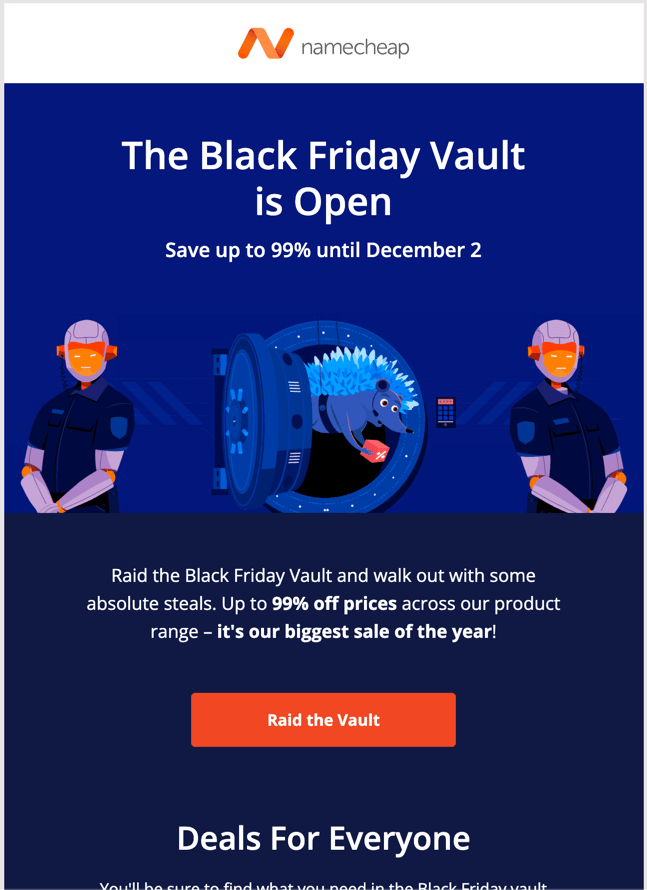 ---
2.3. Welcome emails
Welcome emails are typically the first thing a new subscriber or customer receives from an ecommerce store. It's their first-ever interaction with you so make it memorable and do your best to leave a good impression.
Here's a short and sweet welcome email from Surfshark: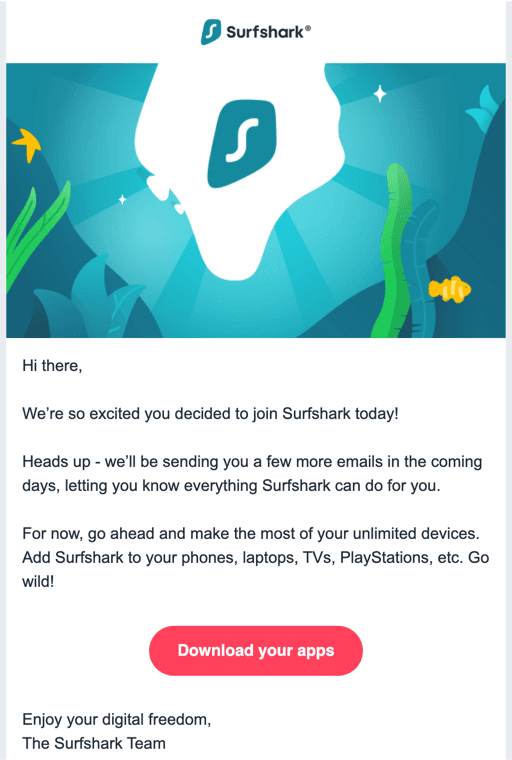 Here's another welcome email example from Blue Odin, which is also the first email in the onboarding process. This approach works for products with a bit of a learning curve.
Emails like this help customers understand how the product works so they can make the most of their purchase/subscription.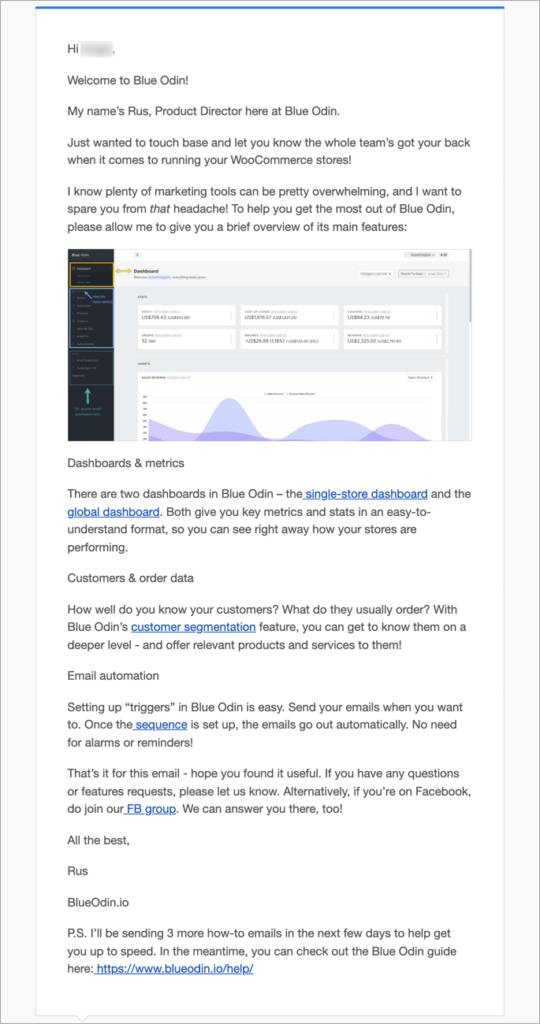 ---
2.4. Lead nurturing emails
Lead nurturing simply means building a relationship with leads to hopefully turn them into paying customers.
Here's an example of Scribd's welcome email encouraging new subscribers to take advantage of their 30-day free trial. If it gets ignored, they'll continue sending reminders to let their subscriber know the offer is still on the table.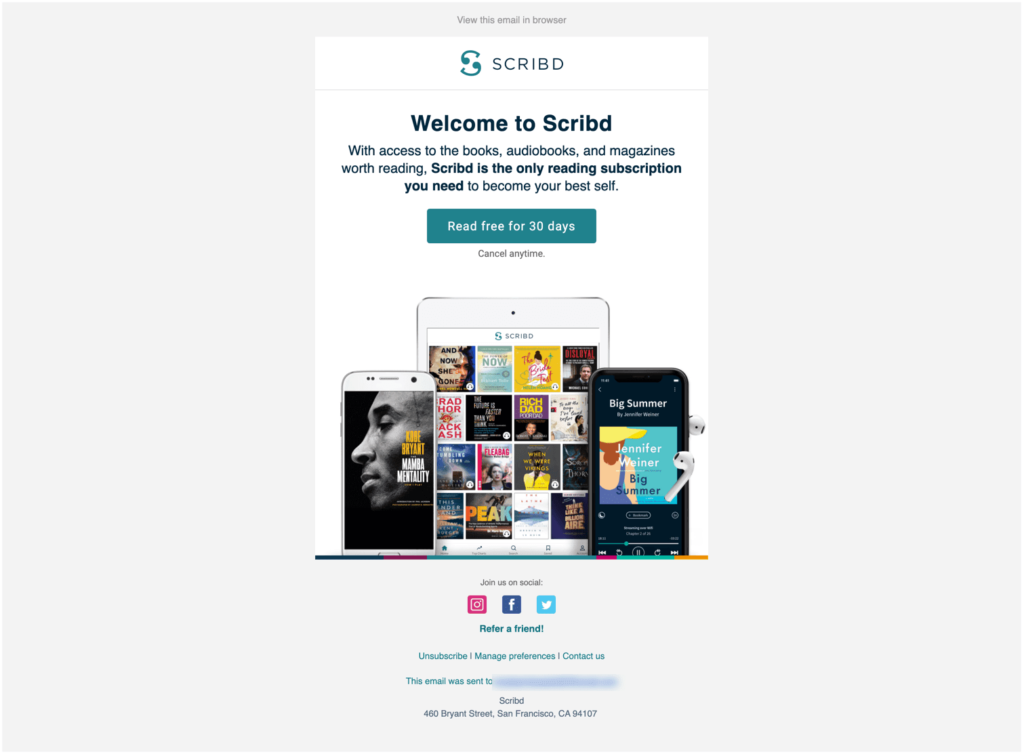 ---
2.5. Cart abandonment emails
Did you know that up to 70% of shoppers end up abandoning their carts? While you can't stop people from abandoning their carts, you can very well do your best to convince them to come back and finish the purchase.
Here's a good example of a cart abandonment email where they not only remind you of the product(s) you left in the cart, but also recommend other products as well.
This is a great strategy for when the potential lead is no longer interested in the main product, but may be looking for something else: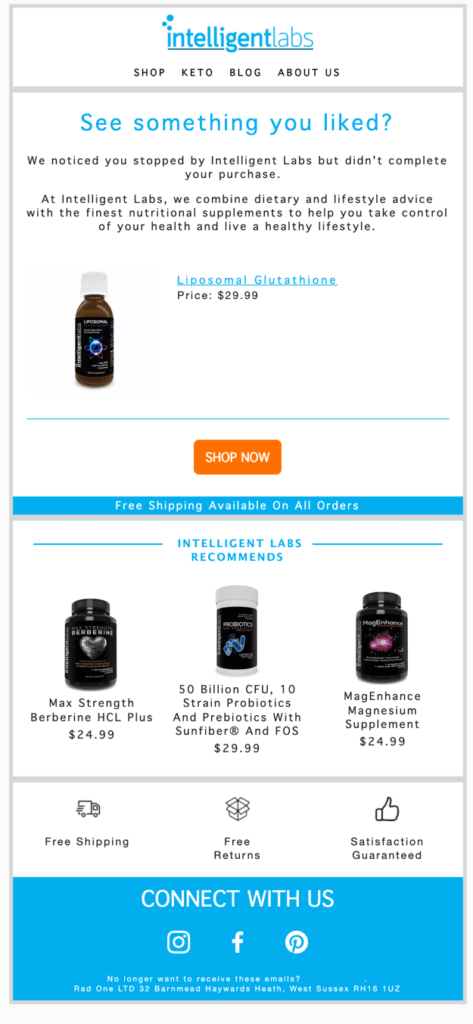 The above screenshot is a good example of the first email in a cart abandonment email series. You may send the first email a few hours after cart abandonment.
Additionally, it's good practice to send a second or even a third reminder when it comes to cart abandonment emails. You can send the second follow-up email a day after the first one.
The third email can be a discount offer as a final push to complete the purchase. You can send this 2-3 days after the first email. Here's an example: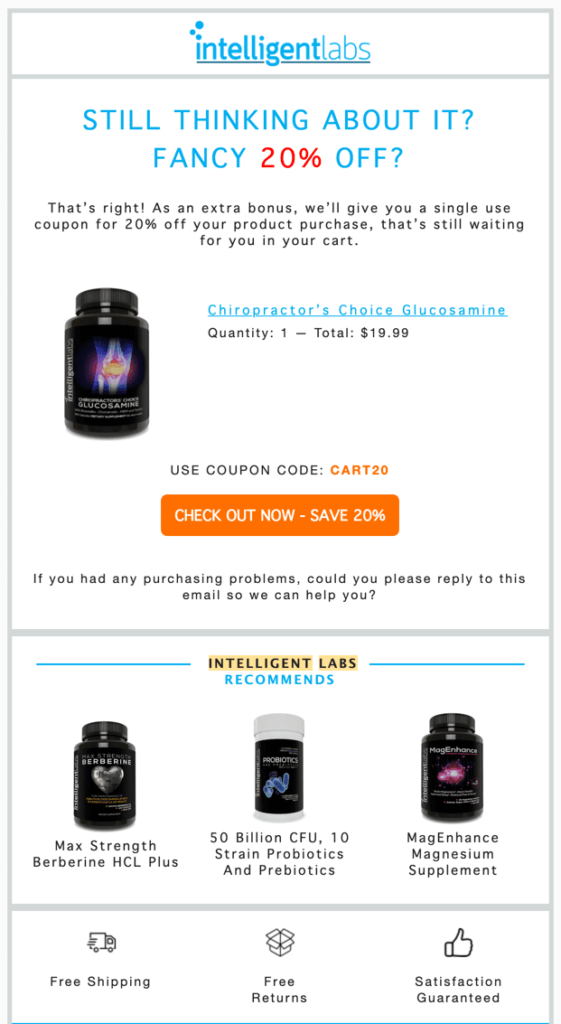 ---
2.6. Re-engagement emails
Life happens. Whether you like it or not, at some point, your paying customers are going to cancel their subscription. If they don't unsubscribe from your list, you can re-engage with them after a few weeks or months, depending on the nature of your business.
Here's an example from Bing Ads giving a $150 credit to past customers so they'll come back and advertise again. You can only claim the coupon within a certain period, and to help convince you, they outline the benefits of using them again: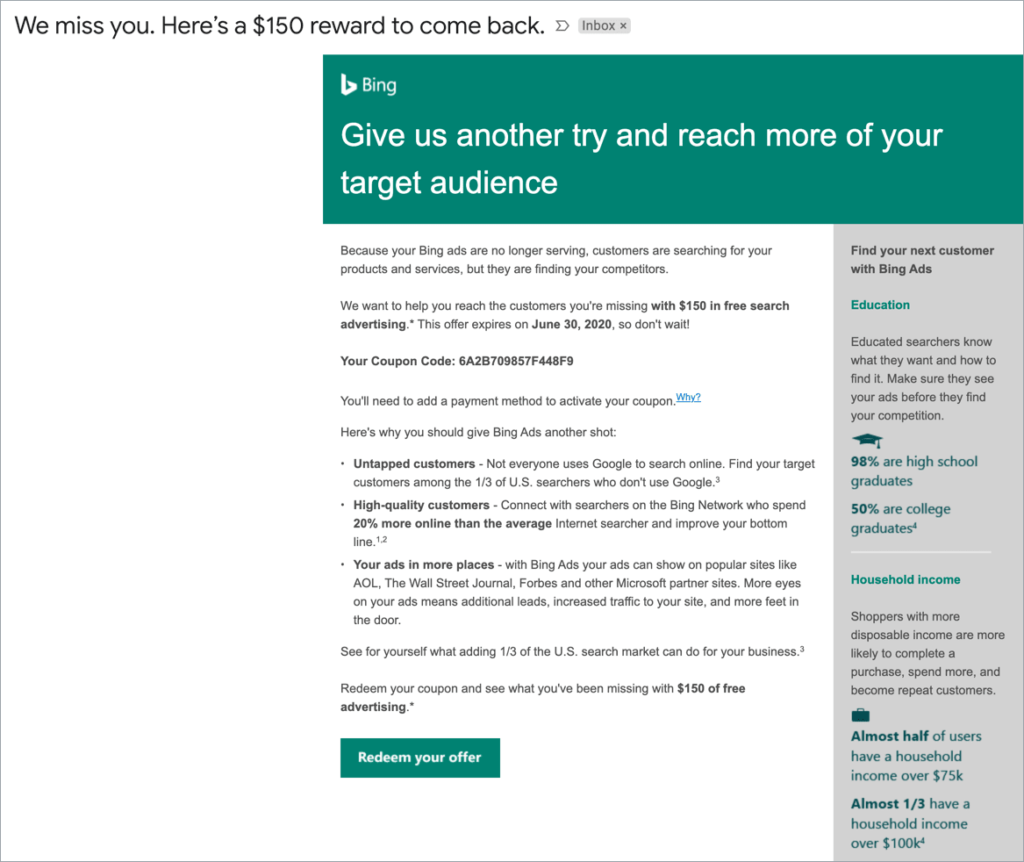 ---
Which types of emails can be added to an automated sequence or flow?
The ability to send automated emails is a key feature offered by email marketing providers. We recommend adding the following types of emails to an automated workflow:
Welcome emails

Onboarding series
What to expect from your store
Welcome discount

Promotional emails

Product launches
Time-sensitive promotions
Product upsell and cross-sell
Subscriber specials
Seasonal promotions

Lead nurturing emails
Cart abandonment emails
---
What about newsletters?
Since newsletter content must be updated on a regular basis, you can send them out as one-off email campaigns:
Company updates
Feature interviews
Content curation
Check out the Bonus Chapter for tips on how to use Blue Odin's automated email sequences!
---
---