The ecommerce world is a trillion-dollar market. Want to get your share of this massive pie? Then learn how to sell like a pro! I know this is easier said than done, so in today's blog post, we'll cover the most important techniques to help you sell like a pro via your ecommerce website. These tips will work whether you're selling your own product or service, or dropshipping from a trusted supplier. Ready to watch your sales skyrocket? Then scroll down for the details!
Table of Contents
1) Pay close attention to web design
It's all about satiating people's desire for immediate gratification. Give your visitors what they want, and you'll have a much better chance at making a sale.
What does this mean in terms of web design?
Well, you've only got a few seconds to capture people's attention. So, at the count of 1-2-3, your site needs to load on their screen. And it must be visually attractive enough to get them to stay on for a few more seconds. Otherwise, they'll just bounce right off and head over to your competition.
From the moment people land on your site, they'll be checking out your website's overall look and feel, its structure and layout, the colors, fonts, graphics, and of course, your content.
You can hire a professional web designer if you've got the budget. Or if you're just starting out, there are plenty of free and premium website themes to choose from on the web!
Here's an example of free themes for WooCommerce:

And here's a screenshot of free themes if you want to go with Shopify: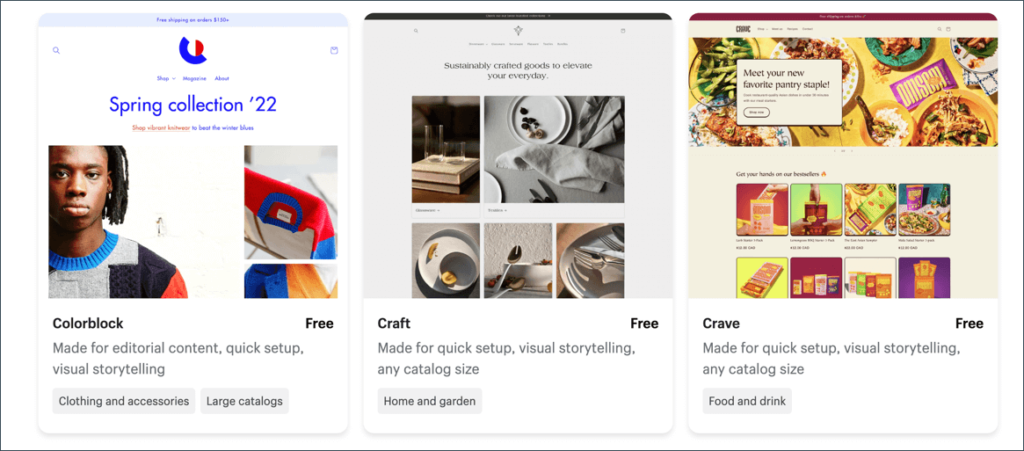 As you can see, even these free themes look amazing! Best of all, they require no coding, so you can have a great looking website right out of the box. But of course, if you want to differentiate your website from other template users, then you will need to hire someone with web design skills.
User experience matters a lot
Keep your site layout simple and optimize every single element on your website towards the goals you've set for that particular page, whether it be introducing your brand, educating your users, or driving them towards the checkout process.
Optimization includes using readable font sizes that people will actually be able to read without needing to zoom in as well as paying attention to the white space on your page. Negative or white space helps your viewers focus on the things you want them to look at. It makes your site look much cleaner and less "crowded".
As for pop-ups? Well, they're annoying, truth be told. But not all pop-ups are created equal – there are actually non-intrusive pop-ups you can implement. For example, you can set your pop-ups to appear after a visitor has been scrolling around for 3 minutes, or they've been inactive for 5 minutes, or they're about to leave your website (also known as exit intent pop-ups).
In summary, if you want to learn how to sell like a pro, study how your top competitors do it. What do you think are the best elements on their site? What do you love most about their design? Design should be easy on the eyes, yes, but content still reigns supreme, which brings us to the next section…
2)   Sell like a pro by writing benefit-driven copy
Writing copy on an ecommerce website is not the same as writing a blog post. Website copy aims to convert a potential lead into a paying customer, whereas blogs aim to educate, entertain, and inform readers.
Ecommerce copy for the homepage and individual product pages should be compelling and persuasive enough so that your ideal customers will buy your products.
Here's an example of succinct and benefit-driven copy from Intelligent Labs' Collagen Peptides sales page: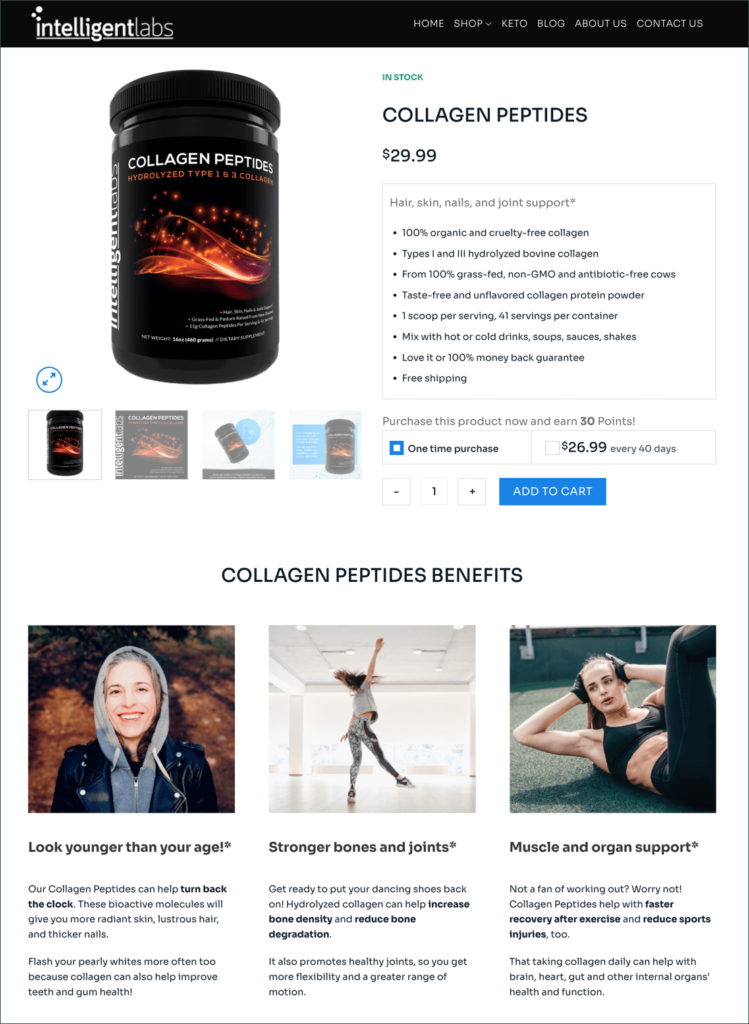 There are many strategies for writing powerful copy. Here are a few of them:
Emphasize your product's USP or unique selling point. What makes your product different from competitors? Why should customers buy your product?
Focus on benefits, not features. Yes, features are important. But people care about themselves above all. When writing the copy, it should answer the #1 question on people's minds – "What's in it for me?"
Be succinct. No need to write lengthy prose – save it for a blog post.
Write product descriptions that tell your readers what they'll experience if they buy.
Get rid of the jargon and use simple words your audience can easily understand without looking at the dictionary.
Make your copy scannable and easy to read, i.e. use bullet points if possible and format the text to emphasize important information.
Proofread and edit your work. It's not a good look for your ecommerce business if the sales copy is riddled with spelling and grammar mistakes.
When writing copy, always think about your customers and how they will feel when they read your words. Answer all the questions they may have about your product. An FAQ section can help too, so consider adding that to your site.
3) Attractive product photography
Photos matter a lot in ecommerce because they bring your product to life. Your customers cannot see your products in person unless you also have a brick-and-mortar store.
For example, if you sell imported coffee beans, you can take pictures like this one here: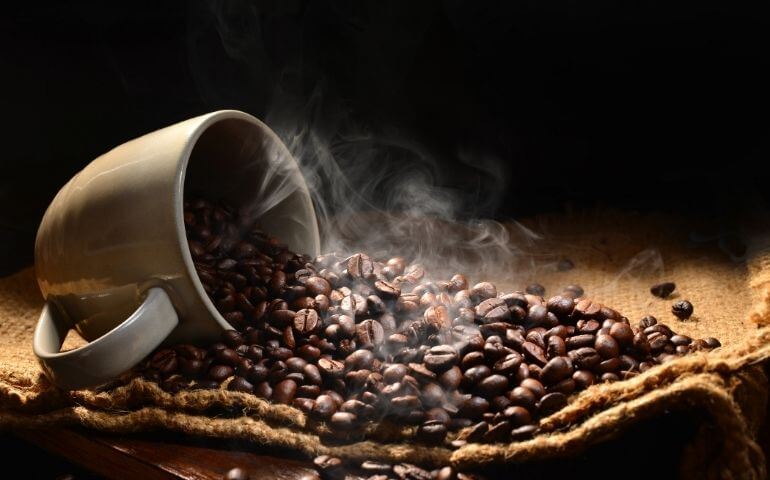 Don't you just love this picture? You can practically smell coffee wafting up in the air! A powerful image like this can help you sell like a pro and do wonders for your ecommerce business.
The good news is you don't need to hire a professional photographer. Modern smartphones are equipped with awesome cameras that can take DSLR-quality pictures! Here are a few tips to help you get started:
Use a tripod for steady and consistent product shots.
Take multiple shots from different angles so your customers can easily visualize themselves using your product.
Consider your lighting options – natural light is preferable but artificial lighting works, too.
Choose the right background – it can be a plain background, a real-world background, or an aesthetically pleasing bokeh background.
Practice makes perfect – there are several photography techniques and the only way to truly master them is by practicing.
4) Add videos of your product in action
Nice images are great, but you know what's even better? Videos! Videos can convey more information than a static image of your product. It drives more engagement and ultimately more sales into your campaigns.
You can use many different types of videos. For example, you can do a 360-degree video of the product to show it from all angles. Set it against a beautiful backdrop so it becomes even more inviting. Alternatively, you can also do a demo or tutorial video; this is particularly helpful if you want to show off a particular function of your product.
Here's an example product video from Apple that showcases their latest iPhone:
It's got all the goods – features, benefits, demo. It's easy to imagine yourself using the phone, isn't it?
The great thing about videos is that you can upload them to many platforms, not just your website. So, you can also cross-promote them on your social media accounts or send your email subscribers a link to the video.
The only problem with videos is they can get quite big in terms of file size. So, instead of uploading your video directly to your website, you can upload it to YouTube or another video site, and just add the embed link or code to your website.
5) Add trust signals
Trust signals reduce friction and push your customers one step closer to making a purchase decision. They are basically votes of confidence and endorsements from partners, clients, and customers.
For example, you can add positive testimonials and product reviews from earlier customers. Select those that detail their amazing experience with the product and how it helped them with their pain points.
Continuing with the Intelligent Labs example in the previous section, here's what their trust signal section looks like:

As you can see, the company has received 306 reviews and an excellent rating of 4.8/5 (you can see this info when you click on the Trustpilot row). They also make it clear that their product goes through stringent quality control, and manufacturing is done at an NSF GMP-certified facility in the US.
Their "Love it or 100% money-back guarantee" is also a winner. And judging by their reviews, the company indeed honors the guarantee. Anyone who's on the fence has peace of mind that they can get their refund if they're not happy with the product.
6) Sell like a pro by building your email list
You're leaving a lot of money on the table if you're not collecting people's email addresses. Think about it – once people leave your website, what are the odds they'll visit you again?
You have direct access to your customers and potential leads by collecting email addresses, meaning you can continue communicating with them long after they leave your site. You can also use email for customer retention and to re-engage inactive customers, too.
The best thing about email marketing is that it's one of the cheapest marketing methods with the highest return on your investment (ROI). In fact, for every dollar spent on email marketing, you can get up to 4100% ROI!
So, how to collect email addresses? You can add sign-up forms on your sidebar, your header and/or footer, in the middle of a blog post, or have them pop up when they reach the middle of the page. Here's an example:

Check out our free email marketing course here if you want to learn how to sell like a pro and boost your conversion rates!
7) Use an ecommerce dashboard
A pretty website can do wonders for your business, but how do you know if you're actually making bank – or losing money? To begin with, you need to identify the most important metrics and KPIs (key performance indicators) in your business.
An ecommerce dashboard like Blue Odin can help give you a bird's eye view of your business. It's really useful whether you've got one ecommerce store or lots of them, as you can see in the screenshot below: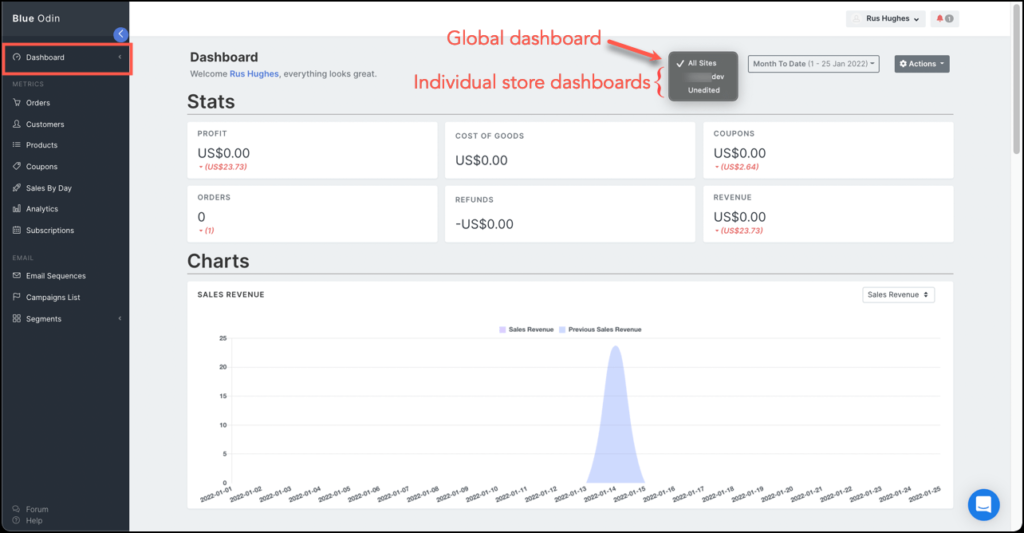 You have access to KPIs such as your profit, cost of goods, number of orders, coupons used, revenue, products sold, and so much more. You can create automations, segment clients, offer coupons, and even send out emails straight from Blue Odin!
In short, an ecommerce dashboard can help identify which parts of your business are primed for growth and which parts need to be trimmed down because you're losing money.
Click here to get started with Blue Odin: https://app.blueodin.io/auth/signup
8) Don't forget the tech stuff
An ecommerce website MUST be optimized for mobile devices. Many people shop on their phones, not on their computers. People will leave your site if it's not mobile-responsive.
Additionally, a fast-loading website is super important nowadays. Everyone's in a hurry and if your site fails to load in a few seconds, they're likely to be gone forever.
Host your site with a reliable web hosting provider with little to no downtime. Many hosting companies offer free SSL, so you get that HTTPS instead of the regular HTTP – this is an important trust signal for both your visitors and search engines, too.
Ready to start selling like an ecommerce pro?
There are many things that go into making your products sell faster. But the actionable tips we've shared in this blog post should be enough to give you a headstart. Use your ecommerce website to sell like a pro by respecting your visitors' time and giving them the information they need to purchase your products!